Chi Kri Teacher Training is the cornerstone of our legacy. Inspiring new teachers with a love, knowledge and deeper understanding of yoga fills us with joy. Knowing that yet another soul is going to be able to light the lamp of peace, devotion and discipline in someone else, is our way of ensuring we're changing the world one student at a time. Yoga teacher training is the baton of India's greatest gift to the world. And yet, at Chi Kri, this is not just about teaching. In fact, teaching is just the apple that falls from the tree of personal development. Chi Kri's training is personal, transformative and spiritually uplifting. Sharing, teaching and spreading yoga comes as a natural by-product of having truly felt it. Our teacher training is a combination of a yoga university, a human journey and a home from home. We hope that you find your way to complete peace, happiness and enlightenment, and that we can aid you on that mission.  
THE CHI KRI GOLD STANDARD
YOGA TEACHER TRAINING COURSE 2023/24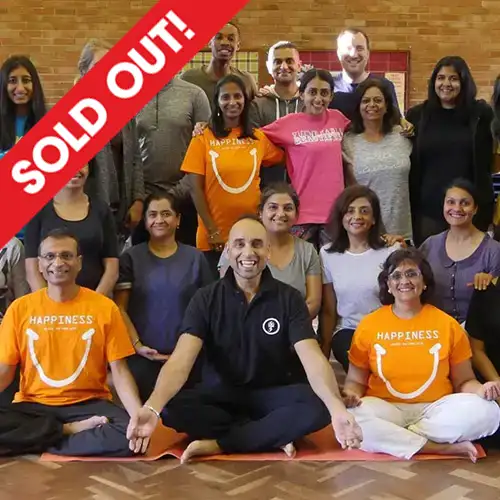 Chi Kri Yoga is one of the oldest yoga lineages in the UK, with over 100 years of yogis listed in the blood lineage to Neil Patel. And with yoga teachings being shared since 1976 in the UK via Neil Patel and his mother, Tara Patel; one of the pioneers of yoga in the 1970s. Students come to study at Chi Kri to gain a traditional Indian family's spirit of yoga with the highly contemporary style of the current grandmaster of the teachings, Neil. Being a highly regarded yogi and a rapper concurrently, Neil has always been able to reach and teach students and trainees at most levels, ages and backgrounds.
Date: 16th April 2023
Course Duration: 18 months
Phone: +44 (0) 7956 60 88 99
Email: gold@chikri.com
To inquire about upcoming courses, kindly contact us at the following email address: gold@chikri.com
"Neil gives above and beyond in all he does. I have been very fortunate to have been in the presence of Neil's company for many years from where I have picked up a lot of knowledge.
Not only did the Chi Kri Teacher Training program educate me about yoga it also gave me invaluable lessons for my self-development and self- realisation. Neil has an abundance of knowledge which he shared with us. This enabled me to build a great basis and foundation from which I could teach and continue learning. Seeds were being planted along the way having come into fruition in their own time. Neil is a very inspirational teacher/ mentor, driven by a passion to get the best for all his trainees. This is shown constantly through his teaching method and approach on every subject.
The high standard of training was delivered in a comprehensive, manageable fashion with the time taken to break each subject down - I could not have asked for anything more. Having qualified with the Chi Kri Teacher Training program, this has given me the opportunity to do what I really enjoy and make it into a very rewarding career both mentally and financially. Not only has my yoga career enabled me to pass on this amazing knowledge it also has, in a financially unstable world, allowed me to generate my own income, which is growing all the time.
As well as learning about yoga, Neil taught me a great deal of business knowledge from the very basics of setting up a class to profit margins, advertising for maximisation. Basically how to run your own business. I am so blessed to have Neil as my mentor, teacher and friend; for now I too am able to pass on my gained knowledge to my students. Thank you Neil for the amazing journey which I have travelled on with you and still am…"
 - Karupa Patel
"The teacher training was a completely unique experience in which I learnt about a yogic way of living. From the word go each of us on the course received 110% from Neil; he not only guided us through the yoga practice on the mat but mentored and shed delightful insights on whatever trials we were facing off the mat.
Neil as a teacher has a wealth of knowledge; we learnt in depth about pranayama, meditation techniques, hatha yoga postures and adjusting techniques. I still hear him correcting me whilst I'm teaching and find that his method of instruction was meticulous. He could advise about methods of instruction from a student's perspective - which as a teacher is crucial.
I found Neil to be a spiritual warrior who has yogic principles indelibly fused into his being. I was nourished by his knowledge and guidance will always be grateful for the invaluable experience I received during the course. The other trainees are now lifelong friends and we continue to encourage each other on our paths."
- Meera Patel
"It's very hard to articulate what I have gained from completing Chi Kri teacher training. Its value will go on to penetrate various areas of myself and life for years (and actually lifetimes!) to come.
His passion, commitment and conviction flows through his fluid style of teaching and through all the various modules of his training methods. Teachings are kept fresh, challenging and engaging throughout. Neil is always willing to cross that bridge that takes you to where he personally is in his yoga journey at any given moment. The value of this is immeasurable and is revealed as you experience being on the receiving end of his extended classes.
Chi Kri Teacher Training has been devised and structured meticulously and covers an incredible amount in a short period of time! I would say the intensity is a natural reflection of the depth of the course, and he will train you in how to learn as well as giving you what to learn!
Neil lives, breaths and continuously exercises the teachings he shares. I personally have come to learn that a good yoga teacher is one who is ready to self-realise; one who is not afraid to go deeper and treat yoga as a way of living and not just as a subject to study.  Neil's nature certainly makes him a self-realised teacher.
I would say Neil's training course is not just for aspiring teachers but a huge investment for anyone who is after genuine physical, mental and spiritual growth; teaching you to live a better life and in turn help those around you do the same."
- Neesha Radia